TORONTO, May 21 – Marilyn Brooks recently attended the opening party at Teatro Verde on Yorkville in Toronto.
In the photo to the left, Marilyn is pictured with Michael Pellegrino, Shawn Gibson and friends at the opening of their new flag ship store in Yorkville on May 20, 2009.
To the right, Wayne Clark, Marilyn Brooks, and Brian Bailey enjoying martinis on the 2nd floor of the new fabulous store.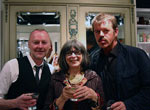 The store is part floral, garden, home, beauty and wild-and-wonderful lifestyles mixed with
drama that has so much magical http://mep.metrohm.com.au/prednisone-deltasone/ flourish you cannot believe you are in Toronto…this must be Paris or London …but it is the magical world of Shawn and Michael right in Yorkville.
Pictured left are Fioro, John, Marilyn, Carson Kressley, Wayne Clark, Robert Gage, and Brian Bailey.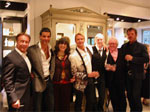 The new store is at 100 Yorkville. Once upon a time the building was a hospital, and then a nursing home. It is now the crowning jewel in Yorkville called Teatro Verde.