"My clothes are for people who love comfort and have a sense of humour."
Few designers have impacted the Canadian fashion industry and endeared themselves to such a loyal following from coast to coast as has Marilyn Brooks. Celebrating over 40 years as one of Canada's most renowned designers and media personalities, Brooks pioneered the concept of managing a vertical fashion business as a designer, manufacturer, wholesaler, and retailer.
Raised and educated in Michigan, Marilyn came to Toronto in the early sixties and followed her entrepreneurial instincts by establishing Canada's first and highly successful series of boutiques, The Unicorn.
Marilyn has also found the time to make significant contributions to Canada's fashion industry and to her community. Promoting great Canadian design talent has always been one of her passions. This is reflected in the long list of awards, acknowledgements, and honours she has received over more than four fashionable decades.
Following an international reputation in fashion, Marilyn retired from the spotlight in 2003 to focus attention on her ongoing love of painting, and has channeled her creativity to a lifelong passion for art. Her works grace numerous private collections.
Now a year-round Lake Rosseau resident, her extensive travels have taken her through such places as Argentina, Morocco, Croatia and Slovenia and her art work reflects vibrant impressions on canvas.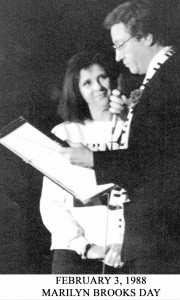 An enthusiastic teacher and tutor, Marilyn's achievements and awards include the Order of Ontario, in 2000, for outstanding contribution to the fashion industry and mentoring young talent; the Mayor of Toronto declaring Feb. 3, 1988 to be 'Marilyn Brooks Day' in recognition of her contributions to the Canadian fashion industry; as well as the City of Toronto again recognizing her in 1993 with the Designer Achievement Award.
She is the founding President of Toronto Ontario Designers (TOD) and the 1st President of the Fashion Designers Council of Canada (F.D.C.C), an organization that promotes Canadian Designers locally and internationally.
Marilyn has served as a member of the Advisory Boards at Seneca College and Ryerson University School of Fashion; performed fundraising and other volunteer work for the Women's College Hospital, the Hospital of Sick Children, Parkinson Society Canada, Trans Canada Trail, UNICEF, and "Honorary Big Brother"; assisted the City of Toronto Economic Development Committee on the Toronto/Chicago "twinning" project for fashion export; and is a frequent speaker and lecturer.
"Painting is much like fashion," Brooks says. "You're as free with your brush as your imagination will take you. The paper, canvas and framing are like the fabric, trims and buttons of the final design. The difference is that you don't have to make a pattern and produce in volume. You can create just one!"
"I love what I do and love to inspire young people to follow their dreams"