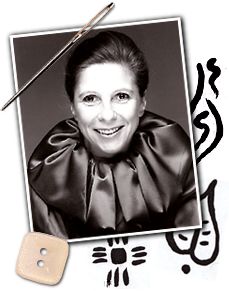 "Nature and Music have always been some of the inner inspirations for her designs and collections."*
"Sure, it is important to go to one of the major fashion capitals for fabric and colour ideas, but I have found that some of the prints and blends of colour for my collections have come from other sources…wandering through some of the world's art galleries and walking along nature trails."
Every October I would travel to Paris for the International Fashion Fabric Fair and not only view the fabrics for the following year, but also begin to contemplate the colours that will go into my designs. Colour has always been the creative base of all my collections. Paris not only provided an exciting infusion of fresh ideas and new directions but when I came back to Toronto on Thanksgiving weekend, my husband and I would head straight for our cottage on Lake Rosseau in Ontario. Here I entered another wonderful world of colour.
As we relaxed, enjoyed Thanksgiving, saw our friends and took long walks around this glorious area, my eyes would soak in the endless colour palette of our Canadian autumn landscape. Walking through our trails in Rosseau, I often encounter a touch of nature in just the right colour combination that might give me a glimpse of fall a year from now. It may be a golden maple leaf or a mossy green texture on a rock. It might be an acorn that I pick up which may inspire a new prototype for a button or I might take the shape of the top of the acorn and spin it into a new textured beret.
Nature constantly stimulates and amazes me. It has always been a great inspiration to me throughout my years of designing. And while it is important to search the world's major fashion capitals to discover new fabric, textures, and colour concepts, some of the most exciting and sophisticated prints and blends of colour for my collections have been taken from nature. I once sketched a dragonfly that had landed on my drawing pad; this proved to be a good omen, as it became a print that many people enjoyed.
*An excerpt from the "Trans Canada Trail – The 16,000 Kilometre Dream"