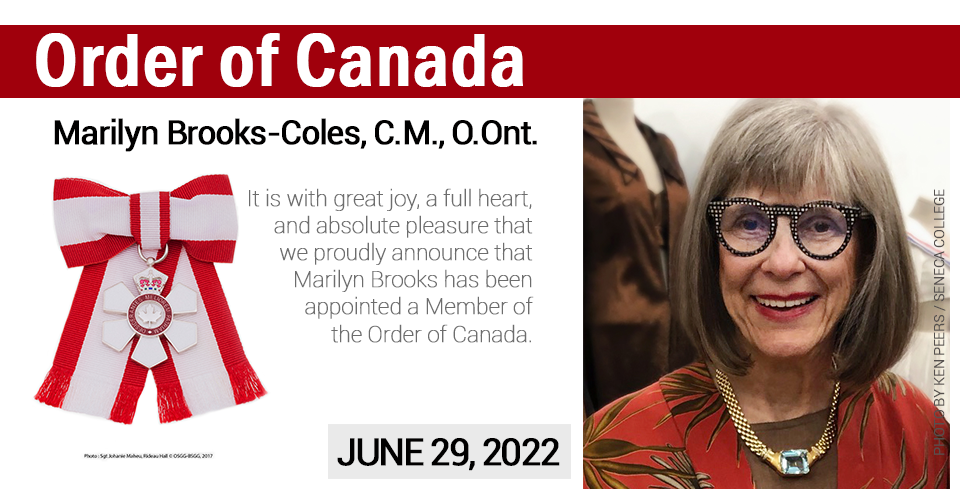 Fashion Designer, Retailer, Mentor, Fundraiser, artist, Author
June 29, 2022, TORONTO – It is with great pride and honour we announce today that Her Excellency the Right Honourable Mary Simon, Governor General of Canada, has appointed Marilyn Brooks-Coles, O.Ont. a Member of the Order of Canada.
This appointment has been made in recognition of Marilyn Brooks' leadership as one of Canada's most iconic fashion designers and retailers, and for her generous mentorship and volunteerism.
The Order of Canada is one of our country's highest civilian honours. Its Companions, Officers and Members take to heart the motto of the Order: DESIDERANTES MELIOREM PATRIAM ("They desire a better country").
Created in 1967, it honours people whose service shapes our society, whose innovations ignite our imaginations and whose compassion unites our communities.
From the early 1960s Marilyn Brooks has been a mentor to many, leaving life-long impressions and igniting fires of creativity, passion, and drive within those who have been fortunate enough to have spent any time with her at all.
A dynamic, hard-working figure with great vision, her infectious ways drive others to strive for excellence and innovation with the same fortitude, integrity and persistence she lives by ─ to really make a difference and stand apart.
Brooks has always had a knack for seeing the great potential in others and bringing it to the surface. Her contributions to the fashion industry in Canada as a designer, manufacturer, retailer, and leader, over the decades have made a significant difference in the industry's growth, strength, and recognition.
In today's announcement, Her Excellency the Right Honourable Mary Simon, Governor General of Canada says, "The Order of Canada celebrates the lives, endeavours and successes of people from coast to coast to coast and from all walks of life. Those being appointed today come from a variety of sectors, have achieved national and international success, and have shown ingenuity, innovation and generosity. What's more, they have made a difference in their communities and for Canada with their outstanding dedication and commitment. Congratulations to the new Order of Canada appointees, as well as those celebrating a promotion within the Order." (see full release here)
The inductees will be presented with their insignia at investiture ceremonies to be held on future dates.
Click to read an interview with Marilyn Brooks discussing her appointment to the Order of Canada.
Click to read a short biography on Marilyn Brooks.
Official announcement from The Governor General of Canada, Her Excellency the Right, Honourable Mary Simon.