Marilyn Brooks believes in young people and has worked in a variety of ways to nurture their creativity and to channel it to help them market their designs. A fifteen-year supporter of the "Cooperative Education" program for high schools in the Toronto area, she and her team train and mentor students, giving them the needed confidence and direction prior to entering their first year of college. An enthusiastic teacher and lecturer over the decades, she was a member of the Advisory Board of Seneca College from 1973 to 1979 and currently is a member of the Advisory Board of Ryerson Polytechnic University's School of Fashion. Active in her own community, she successfully produced the Cabbagetown Fashion Event to benefit the Youth Centre for nine consecutive years and in 1998, she received their first Volunteer Award.
Generous to many charities, which call upon her, Marilyn was made an Honorary Big Brother for her contribution during the seventies to their fundraising efforts. She was also the honorary chair of Parkinson's famous fund-raiser, the Cut-a-thon, from 1990 to 1996 and participated in the Pitch-in for Parkinson's with the Toronto Blue Jays. Marilyn worked with UNICEF to develop products that could be sold world-wide and has participated in all twelve annual Fashion Cares events for the fight against AIDS.
---
Corona Chairs for Charity Auction a runaway success
We'd like to thank Corona and all those involved in making the Corona Chairs for Charity Auction a runaway success. The auction featured traditional Muskoka chairs that had been transformed by six Canadian artists into Corona Chairs to benefit the Cottage Dreams Cancer Recovery Initiative – a charity that provides time away at a donated cottage for cancer survivors and their families. Participating artists include: V. Tony Hauser, Charles Pachter, Rose Pearson, David Hickey, Marilyn Brooksand Noelia Marziali.
The total monies raised was CDN$14,682.80. This money will be used to place additional families into cottages in the new Fall/Winter program. It is so wonderful and much appreciated for the Cottage Dreams Cancer Recovery Initiative to be able to offer these additional getaways.
---
Teddy Bear Christmas Tree
"Teddy Bears are universal icons of love, possessing the moral values of goodness, loyalty and love, but above all, of innocence"
 Each year companies, organizations and citizens in Toronto join together to imaginatively garland Christmas trees to create the "Festival of Trees". This forest fantasy attracts thousands to the Eaton Centre to marvel at the colourful boughs.
One year – because of my love of Teddy Bears -I decorated a Festival tree with merry Teddy Bears of good cheer and love. Best of all, it was later auctioned off just before Christmas with the proceeds donated to Toronto's wonderful Hospital for Sick Children.
---
 Go-Go Bear for a Good Cause
"It's a very important charity & I love bears. It's also a great way for the hospital to raise money."
The Ready-to-Wear Bear Auction is an annual fundraiser for the Hospital for Sick Children. Last Christmas over 80 bears were dressed by top international and Canadian designers. Here's my "Go-Go" Bear, the "grooviest" bear in town. Inspired by my Spring 2001 collection, she truly represents "Flower Power" dressed in her "What's Happening?" daisy covered jump suit (reminiscent of my days dressing the cast of "What's Happening?". Her funky armbands adorned with beads match her pleather shoes and a wide headband holds back her long luscious locks. She was snapped up at auction and now cuddles in someone's house silently knowing that the price paid for her is helping to make a difference.
---
Designer Bears Need a Home!
Special bears for a special cause.
Designers were asked to dress bears for auction and I made my bear to be Josephine, with a painting of her true love, Napoleon!
The bears dressed up by Toronto fashion designers were destined for the Safehaven Gala's Live Auction.
There was a deluxe bar, four-course meal, entertainment, live and silent auction, raffles, door prizes, all at The Royalton (Weston Road and Hwy 7). What a magical wonderful evening it was.
---
Bears are trending for a good cause
Over the years teddy bears have been a favourite for putting a magical spin on for good causes and I've been honoured to be a part of these special fundraising events.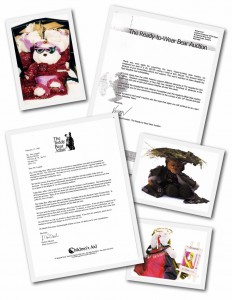 ---
Marilyn's Mrs. Moose
Marilyn's Moose as Calypso Cool!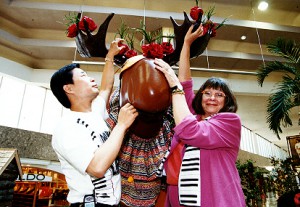 Last summer the city of Toronto went wild over moose by the hundreds. Not the real kind but crazy coloured life-size moose figures that turned up all over the streets of Toronto. This Moose invasion was part of making summer fun and giving tourists a happy surprise. Companies and individuals bought a nude moose and commissioned artists and designers to deck them out in themed costumes that reflected the business and lifestyle diversity of the city. Caribana is the largest Caribbean festival in North America, attracting over a million visitors each summer. It was the colourful inspiration of this moose. She stood her ground in "Moose Park" at the Yorkdale Shopping Centre even when a conservation officer tried to beguile her with moose calls.
"My Mrs. Moose is one hot mama when it comes to being calypso cool!" A native of Trinidad and Tobago, Carnival and Caribana come like second nature to this hip damsel. Not only does Mrs. Moose enjoy the cool Caribbean breezes, but she also has traveled the world to get the most fitting fabric for her creative ensemble.
Stretch cotton Lycra from Italy with a shiny reflection is used for the body of the costume. The frills are made of printed viscose from Germany combined with sheer organza from Japan. Rosebuds with a feathery feeling are added to show that my Moose cares about the finer things in life!
Because Mrs. Moose has a tendency to be shy sometimes, she was wearing a bead-bedazzling mask of matching hanging earrings to accent her face. And to finish her ensemble, rosebudded ballet booties (size 36) are added with a flare. Dancing shoes are all this spunky moose will wear since she really knows how to shake her bootie! And with the entire ensemble, it was evident that the public was convinced that my Mrs. Moose was surely Calypso Cool!"
---