Classic Music Collectors' Pieces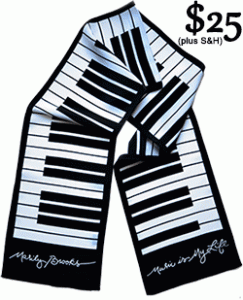 Two of my "musical fashion" favourites, the piano scarf and the "Music is my Life" tshirt, have gone gold and are now a classic part of my collection.
The signature Marilyn Brooks Piano Scarf — includes all 88 keys! 
ONLY $25.00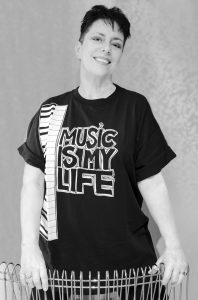 WHILE QUANTITIES LAST – LIMITED EDITION! 
At right, the MUSIC IS MY LIFE t-shirt in soft 100% cotton says it all and says it forever. It's washable, wearable, and tells the world that music is your life – well almost!
Piano Scarf
I once took piano lessons and fell in love with the black and white beauty of the keys. The result was my Piano scarf. A light but warm keyboard that hits a high note in style and looks great anytime and anywhere. A favourite of Vidal Sassoon! You can slip it off and use it as a dust cover on your grand or stand-up piano when you're busy making music somewhere else.
At left, Marilyn Brooks stands with Toronto Mayor Art Eggleton as he proclaims Marilyn Brooks Day wearing his Marilyn Brooks piano scarf.
At right, after Marilyn has just finished presenting the piano player from Rick's Cafe in Casablanca with her piano scarf, the pair pose for a photo.
Kathy Kriger, the owner of Rick's Cafe, told Marilyn when she presented him with the scarf after he had just played a song … Marilyn whatever you do NEVER say to him "Play it again Sam".
Jonathan Mak was ten years old in this photo (left). He began studying piano at age three with Mrs. Aster Lai. Jonathan made his solo debut with the Canadian Sinfonietta at age four.
Since then, he has performed as a piano soloist with the Toronto Cultural Youth Orchestra, the Chinese Artist Society of Toronto Youth Orchestra, the Cathedral Bluffs Symphony Orchestra, and the Toronto Sinfonietta. Jonathan has already passed his RCM Grade 10 practical piano exam, for which he received first-class honours, at the age of only seven.
Music is my Life!
When I was 13, I was a fan of Stan Kenton and fainted away when he gave me an
autograph ed single of "Willow Weep for Me" sung by the great June Christy. Years later I designed outfits for his band with different coloured vests for each section (blue vests for the horns, brown vests for percussion, etc.)
I have always admired the dedication musicians place on their art and have had a great time and many wonderful moments dressing some of the best for album covers, jazz jams, and concert performances. I love jazz and have had musicians like Peter Appleyard and Washington Savage perform for my runway shows and Joe Sealy compose pieces especially for the shows. Two of my "musical fashion" favourites have gone gold and are now a classic part of my collection.