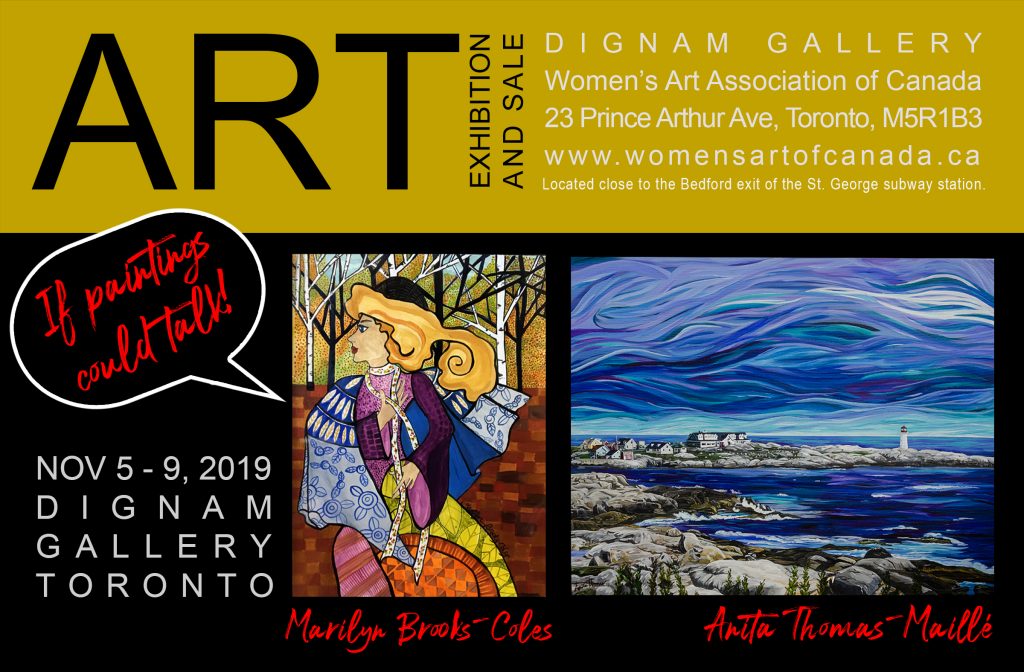 Marilyn Brooks-Coles, O. Ont
Marilyn Brooks presents a retrospective of her art as developed over the past sixteen years. During this period Brooks shifted her talents from the world of creating fashion for women to the creation of art. Marilyn's work, primarily in acrylic, is noted for depicting a broad range of women as characters with charm, whimsy, humour and style — often with a deep alignment to Mother Nature. As she begins to blend her time from the country to the city, Marilyn is excited to offer these works for sale, many of which are from her personal collection.
www.marilynbrooks.com
www.marilynbrooks.ca
Anita Thomas-Maillé
Anita Thomas-Maillé has a background in the fashion industry, including over seven years as the Design Director and Pattern Drafter for Marilyn Brooks. Now established as a photographer and artist, Anita presents a collection of works exploring a range of styles and mediums in a show that moves through combined abstraction and minutely detailed East Coast landscapes to abstracted encaustic and cold wax paintings.
www.anitathomas.ca
www.urbanmoon.ca
---
WHERE
DIGNAM GALLERY
WOMEN'S ART ASSOCIATION OF CANADA
23 Prince Arthur Ave, Toronto, M5R1B3
Located close to the Bedford exit of the St. George subway station.
---
WHEN
EXHIBITION HOURS
Tuesday, November 5th:
12 – 4 PM (Artists present from 1 – 4 PM)
Wednesday, November 6th:
9 – 12 PM
Thursday, November 7th:

9 – 4 PM (Artists present from 12 – 3 PM)
Reception 5 – 8 PM (Artists present)
Saturday, November 9th:
Reception 1 – 4 PM (Artists present)
---