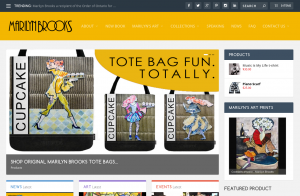 After much toiling and back room fussing, we're happy to finally announce the launch of the new Marilyn Brooks website! There are many new and exciting plans underway, and the launch of the site is the jump point for it all.
Not only can you purchase original Marilyn Brooks paintings, we are also now offering a line of products featuring Marilyn's artwork. From tote bags to toss pillows, there are many fun ways to enjoy a splash of her whimsical work.
Stay tuned for the latest news on Behind the Seams, a soon-to-be launched book chronicling over FORTY years of fashion, fantasy, art, retailing and music. Click here for more information.
Keep up to date by subscribing to our newsletter. Also, make sure you follow Marilyn Brooks on social media! Click on the icons at the top right.