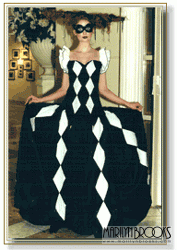 Marilyn Brooks has been in almost every Fashion Cares show in the last 20 years.
In 2002, Fashion Cares celebrated its 20th Anniversary and Marilyn was one of the featured designers. They chose the 2002 Gown (pictured left), for the show.
Marilyn had her special TTC transfer dress in the Celebration Book that was available at the show for $40.