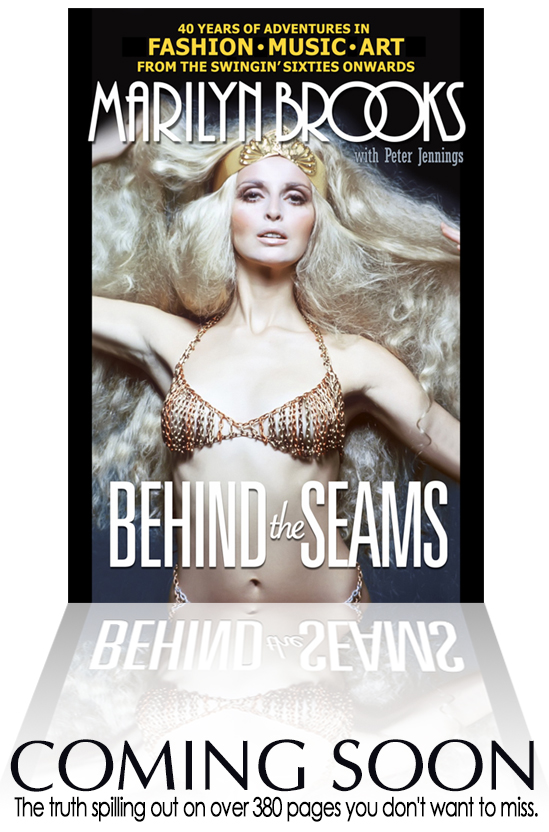 EVENT FULL!
Stay tuned to our news and mailing lists for further development, more exciting news and events.
The link is open to RSVP for Marilyn Brooks' book launch. Please register to reserve your free tickets as seating is limited. THIS IS A FREE EVENT, but you must register at the link below:
https://www.rom.on.ca/en/whats-on/behind-the-seams-40-years-of-canadian-fashion-with-marilyn-brooks
To recap, the Royal Ontario Museum (ROM) is hosting a special lecture on Fashion from the 60s through to the 90s in conjunction with the launch of Brooks' long-awaited book, Behind the Seams, on Sunday afternoon October 15th from 2-4pm, doors open at 1:30pm.
We hope you will be there as we discuss that extraordinary time in fashion. Joining Marilyn on the panel, moderated by Dr. Alexandra Palmer, the ROM's Senior Curator of Fashion Costume, are Canadian television personality, fashion editor, author and newspaper columnist with the Globe and Mail, Jeanne Beker; former editor-in-chief of FASHION and former Toronto Star fashion editor, Bernadette Morra; and executive director of the Toronto Fashion Incubator, Susan Langdon.
Limited theatre seating is available so please don't delay in reserving your free tickets.
Afterwards, Marilyn Brooks will be signing copies of Behind the Seams: 40 Years of Adventures in Fashion, Music & Art, from the Swingin' Sixties Onwards! Looking forward to seeing you Oct 15th!
INSPIRING!
IDEA DRIVEN!
BEHIND THE SEAMS is a hybrid: a business book/biography with engaging stories from the trenches. Throughout 23 absorbing chapters, readers will discover tips for starting and running a business. Dos, don'ts, should-haves and might-haves are all covered as you journey with Marilyn through the fluctuations and unpredictability of retailing, so elusive in the fashion biz.
Filled with whimsical illustrations and rare historical photographs, you will enjoy 40 years of adventures in retail, fashion, fantasy and music. Each chapter includes revealing anecdotes that showcase Marilyn's adventures in starting and ending companies and introduces the reader to personalities and humorous escapades, some of which will leave you in "stitches".
Also included is "Marilyn's Maxims", offering advice at the end of each chapter from a successful entrepreneur who's been there, done that: pointers for others to follow.
Delivered in an easy-going, conversational manner, as shared with writer Peter Jennings. The combination of anecdotes and advice presents the reader with warm wit and wisdom, revelations within the confessions, and sage counsel from the insights.
Visit the BOOK site at
for more information, excerpts and all the latest book news!
SIGN UP to get notified of the latest book release news and events!
Marilyn Brooks is a born storyteller and she has so many stories to tell. Bursting on to Toronto's grey fashion scene in the 60s, she broke the rules to transform the industry into rainbows of opportunities for all who participated, guiding retail and manufacturing businesses into the new millennium along the way.
A uniquely engaging individual with an outgoing personality, Marilyn has met celebrities, luxuriated in success, yet dealt with adversity.
Marilyn's memoirs and business maxims form a book that is fascinating, instructive, praise-worthy and fun to read!
Peter Jennings is a published author having written "Shark Assault: An Amazing Story of Survival" (sharkassault.com) and "Why Being Happy Matters" (whybeinghappymatters.com). He is currently readying two new books for publication: "Pushing the Boundaries" (pushingtheboundariesbook.com) as well as "I'll Never Smile Again" (ruthlowestory.com). His published
books are available at Amazon, Indigo/Chapters, Barnes & Noble, Kindle, Kobobooks, iBooks, etc.